Kinesio Tape and Lymphedma
Westbury Total Health Care specializes in Complex Lymphedema Therapy in Nassau County, New York. Our Physicians have 50 years combined experience treating hundreds of complicated Lymphedema conditions.
Kinesio Tape in Conjunction with Lymphedma Therapy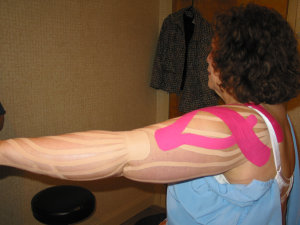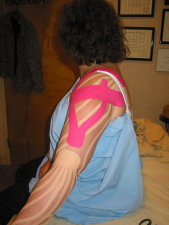 "I can tell you from using it, the results are great. We use it in conjunction with CLT and compression bandaging. In some difficult cases when started to use the tape it helped to advance the results. The tape works by lifting the skin and allowing the lymphatics underneath to drain.", Staff at Westbury Total Health Care.
The idea behind the tape is to lift the skin and allow the lymphatics underneath to drain from the area, we continue to perform the CLT to open channels so that the load to the lympathics is reduced. Depending upon the severity, chronicity and degree we usually perform the compression bandaging as well. In mild cases sometimes the CLT,tape, and garments are all that is needed.
The tape can be worn underneath any type of stocking, just be careful when putting on the stocking that it does not roll the tape, once you learn how to play with the tape it should not be a problem. Check Kinesio.com to see if they list therapists in your region
The nice thing about the tape is that it can be worn underneath your garments, it can be worn in the shower and does not have to removed for a couple of days as long the skin doesn't have a reaction, ie itchy from dry skin. The tape does not have any latex for those allergic to latex. The tape can be purchased through your doctor/therapist/supplier or Kinesio association. The cost for 1 roll is usually about $20 dollars depending on tax and shipping, for lymphedema we use the 3" wide tape

You should find a doctor/therapist who is familiar with the applications and can teach you how to cut and apply the tape. There is a specific technique for lymphedema that can be taught. In addition, if the lymphedema is in the upper extremity, the tape can also be used to treat shoulder impingements, very common with post mastectomy patients